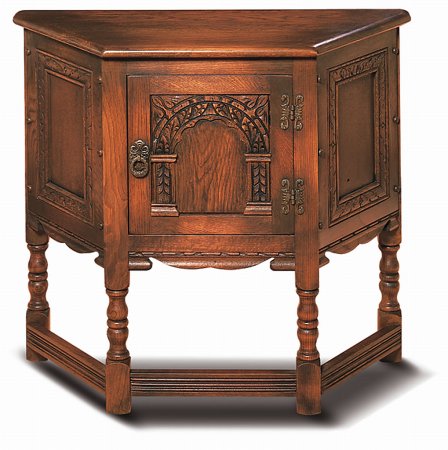 Old Charm - OC 1434 - Canted Table
A classic piece of signature Old Charm, the Canted Table is one of the oldest and most popular designs in the range. The Gothic Arch - a traditional Tudor motif - is hand carved onto the door panel.
Available in eight finishes.
Main Features:
The gothic arch.
A traditional Tudor motif is hand carved onto the door panel.
Size:
W 81 x D 33 x H 71cm
Delivery Information
Free Local Delivery

If you purchase any item from stock, we will deliver it the next week. If you have ordered furniture from us, as soon as we veceive the goods we will contact you personally to arrange delivery. We can deliver within a 2 hour time slot, or ring you to give notice so you can get home, or make you our first delivery at 9:30am.

We will deliver the furniture to the room you require , unpack the furnitureand remove packaging if you like.

Also for a small charge we will dispose of your existsing furniture and beds etc.


Back in 1924, at the age of fourteen, Herbert Wood founded what has now become Wood Bros. of Ware - the UKs leading oak reproduction furniture manufacturer, and a company of true international renown. Herbert Wood's dream was to produce a range of furniture which combined unique style with quality and practicality. But above all, the furniture had to be unaffected by time and fashion - furniture which would actually appreciate with age, both financially and aesthetically. His dream became reality when he began to produce the Old Charm range of Tudor style oak reproduction furniture, which today comprises a magnificent collection of living, dining, home office, entertainment and occasional furniture.
More products from the OC range