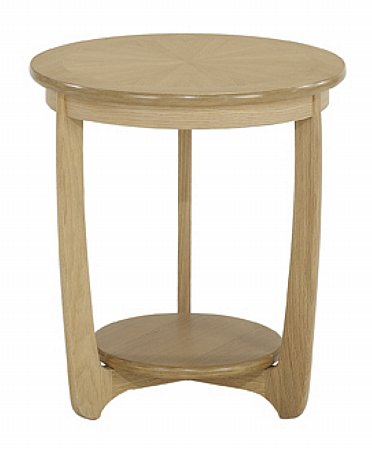 Nathan - Shades Oak Sunburst Top Round Lamp Table
Sunburst Top Round Lamp Table
Banded sunburst top.
Code: 5825
Dimensions:
H 55 cm W 50 cm D 50 cm
Delivery Information
Free Local Delivery

If you purchase any item from stock, we will deliver it the next week. If you have ordered furniture from us, as soon as we veceive the goods we will contact you personally to arrange delivery. We can deliver within a 2 hour time slot, or ring you to give notice so you can get home, or make you our first delivery at 9:30am.

We will deliver the furniture to the room you require , unpack the furnitureand remove packaging if you like.

Also for a small charge we will dispose of your existsing furniture and beds etc.


Welcome to Nathan, a respected name in furniture for more than eighty years. Nathan uses solid timbers,combined with the best quality veneers, to the highest specifications. You expect the best and Nathan provides it! Nathans eye-catching Classic Range blends timeless design, outstanding comfort and superior craftmanship. A wide choice of options, pieces, and total flexibility makes this the ideal collection for todays lifestyle.
More products from the Shades Oak range