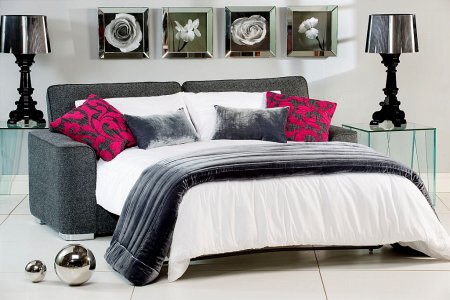 Alstons Upholstery - Zurich Sofabed
Three seater sofa/sofabed in cover 9307 with large scatter cushions - feather filled in 9026, polished chrome feet - dark and light wood feet available.
H 940mm x W 2100mm x D 950mm
Delivery Information
Free Local Delivery

If you purchase any item from stock, we will deliver it the next week. If you have ordered furniture from us, as soon as we veceive the goods we will contact you personally to arrange delivery. We can deliver within a 2 hour time slot, or ring you to give notice so you can get home, or make you our first delivery at 9:30am.

We will deliver the furniture to the room you require , unpack the furnitureand remove packaging if you like.

Also for a small charge we will dispose of your existsing furniture and beds etc.


Alstons (Upholstery) Ltd is an award winning family-run business and one of the leading upholstery manufacturers in the UK. Established for over 50 years we have gained an enviable reputation for manufacturing Great British Furniture, with guaranteed deliveries and a top quality back up service of which we are all very proud.
Combining state of the art machinery and technology with traditional methods, we accurately reproduce our recognisable style of our furniture to each customer specification and more importantly at an affordable price everyone can enjoy.
With the same high standards of quality used throughout every range and one of the widest fabric selections available, it is easy to see why Alstons are the manufacturer of choice with stockists the length and breadth of the country.
We have not lost sight of the individual touch that sets us apart from our competitors and at our Colchester based factory, the commitment and loyalty of our workforce is the cornerstone of the Companys success. Our philosophy is simple -treat others like you would like to be treated yourself-.